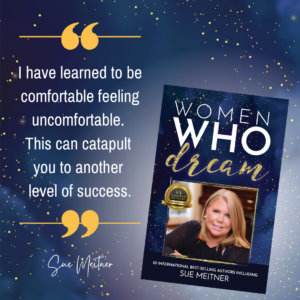 Women Who Dream compiles inspiring stories from 30 authors – including Centennial Lending Group's President, Sue Meitner – written to provide a fresh perspective on success, careers, love and life. Within 24 hours of its release on Amazon, it was ranked a #1 International Best-Seller!
Sue's story "It Starts with Trust" shares her personal journey of building and growing CLG for 9 years. It's a story of pursuing dreams while balancing personal and professional responsibilities and learning about yourself along the way.
The other short stories in the book are very different accounts of life experiences yet are equally inspiring. Available on Amazon, Women Who Dream is already creating big beliefs and big dreams for women in all walks of life.
This is Sue Meitner's second book on navigating the road to success. She is best known as a mortgage expert, mentor, and speaker. She is a member of Mortgage Women Speaker Bureau and hosts the podcast Grab Your Keys focused on identifying keys to success in all industries.  Sue's passion is to help people successfully build wealth in many ways.